Kenn Bivins is an illustrator turned author who has an affinity toward telling both heart-warming and heart-wrenching tales of redemption.
Through his novels and non-fiction, he aspires for his readers to identify with the characters and themes that he crafts through suspense, intrigue, action and the unexpected.
His love of literature was born from the pages of comic books and honed by enjoying the literary works of Richard Wright, Ralph Ellison and John Steinbeck, among many.
His novels, "the Wedding & Disaster of Felona Mabel" and "Pious" have received much critical acclaim from the literary world.
1. Author Bio
This is actually a series of four bios, written in different lengths to make the media's job easy. If you provide only one long bio, journalists and others who need just a short paragraph about you must wade through your bio, find what they need, and write it. This slows them down. And there's no guarantee that what they write will be accurate.
Include an "Author Bio" sheet with bios, all written in the third person, in these four sizes:
Two-line bio. This should be 140 characters which, coincidentally, is the maximum size of a Twitter status update. Why so short? Because if someone wants to tweet a description about you, you've already written it. Also, a two-line bio might be all you're allowed in the author resource box if you write an article for a magazine.
Short Bio (50 words). This is ideal for longer author resource boxes. Concentrate on your expertise.
 Medium bio (100 words). Include everything in the short bio. Include your most noteworthy accomplishments.
Long bio (400 to 600 words). Write an overview of your life and writing career. Include everything in the medium bio. You can use this to tell a story.
Speaker introduction. This is very helpful for meeting planners and others who invite you to speak. Never let them write your introduction. Insist that they read the one you provide. Write up to 300 words.
5 Fun Facts You didn't Know About Me.  These can include trivia from your personal or business life, unusual hobbies or travels, or anything that will give readers a glimpse into your personality. You can write more than five, if you wish.
2. Book Synopsis
Write these all in the third person, in four different lengths: a two-line summary, short, medium and long.  Take your time to consider the full scope of the book before writing each synopsis.
Consider what the book has to offer, the most compelling parts of the story, or the niche the book serves.  Write short and pointed sentences that are appropriate for a general audience, and pitch your book in as few words as needed.
3. Press Release
Include contact information, a headline and subhead.
Start the most interesting aspect of the book and explain what the reader will learn.
Include a quote from the author. It can include why you wrote the book, what you hope readers will learn or advice included in the book.  Include a call to action with a link to a website where readers can buy the book.
4. Sample Chapter
Choose a chapter that reflects what the book is about. You an include a link to a Table of Contents and Amazon reviews.
5. Interview Questions
Most journalists, broadcasters and bloggers who want to interview you will not have time to read your book. That's why they will welcome a list of interview questions. They won't necessarily limit the interview to those question, but the list will provide a handy springboard that will help them start the conversation.
6. Contact Information
Include a sheet that tells people every way possible to contact you: by office phone, email, Skype, and links to all your social media profiles. This may well be the most important item in your media kit. If you're mailing copies of your book to reviewers, it's a good idea to slip a copy of your press release and the contact information sheet into the book.
7. Book Review Excerpts
You should be asking for book reviews before you launch the book. When you get them, choose excerpts from the best ones and compile them onto a sheet along with basic information about the book. These excerpts might sway a journalist to write about you. Or they might prompt someone to buy your book and maybe even write a review.
8. Photos
Include links to high-resolution head shots and a few environmental shots that show you in a variety of settings. For example, a cookbook might include photos of her in the kitchen, whipping up a favorite dish, or shopping at a local farmer's market. Small newspapers, newsletters and bloggers will welcome these photos. You will also need a photo of your book cover.
Here's a good example of an environmental photo for bestselling author Edward Vilga's media kit. He is the author of Downward Dog and Yoga in Bed. The photo of Edward and his dog, Belle, was taken by Jonathan Pozniak.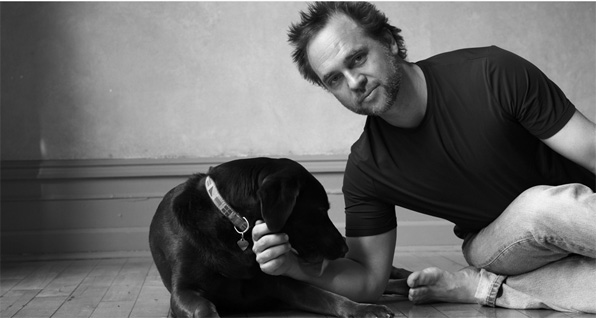 You are not invisible. We see you.